The St. Moritz International horseraces are part of the select circle of "Swiss Top Events" that make up all the modern attractions in Switzerland today.
Every year, over three race Sundays in February, noble thoroughbreds from all over Europe along with international jockeys enthral more than 30,000 spectators by racing on the frozen lake of St. Moritz.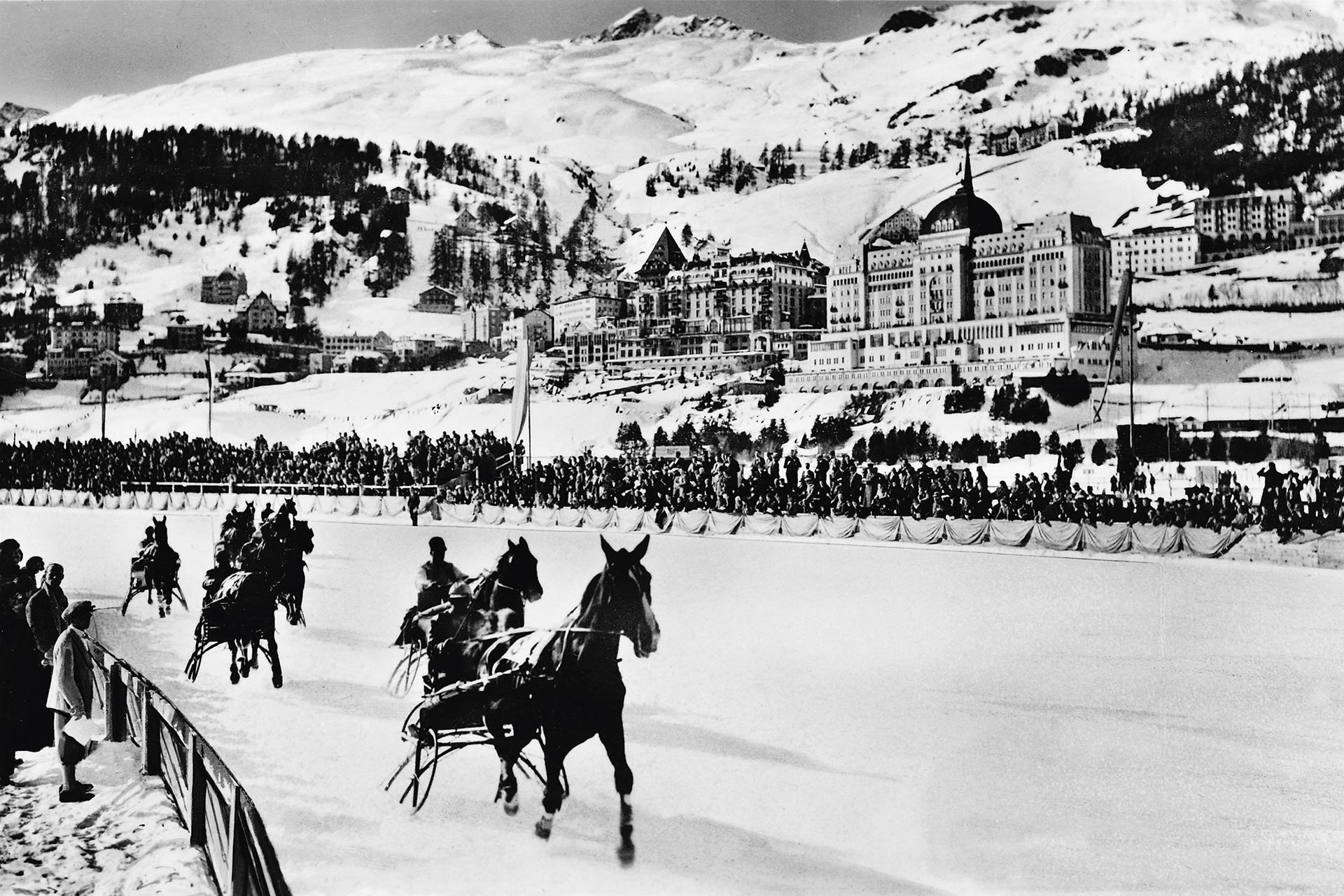 It was enthusiasm for Skikjöring that provided the impetus to organise the first official winter horseraces in St. Moritz in 1907. At that time, besides Skikjöring, some of the first trotting races were also held on the frozen lake. Flat races were added in 1911. From the outset the horseraces on the frozen lake of St. Moritz were very well received as a novelty throughout the world and fascination in the event has continued from generation to generation. Through the years, the event has been developed with innovative ideas, all of which together have made White Turf what it is today - the most important equestrian sporting event and social highlight of the winter season.
So again, this coming year, in 2018, for the 111th time in its history, the horseracing events and supporting programme will surely get the adrenaline pumping for active participants and equestrian sports' enthusiasts alike, as well as providing excellent entertainment. Gallop and trotting races, together with the main attraction, the Skikjöring, will alternate every 30 minutes on the three race Sundays. The Longines Grand Prix of St. Moritz, ridden as the European Championship on snow, is the race with the highest prize money in Switzerland with an apt purse this year of 111,111 Swiss francs. It will be held for the 79th time in this anniversary year.
In addition to the highly prized BMW trotting races, each year the world exclusive Credit Suisse Skikjöring races provide a special attraction for spectators, where drivers on skis are pulled by unmounted thoroughbreds over a racetrack of 2,700 metres at speeds of up to 50km/h. Courage, physical stamina, strength and skiing proficiency combine to determine who will collect the highest number of points over the three race Sundays, to be crowned 'King or Queen of the Engadine'. Moreover, the last preliminaries and the final event in the H.H. Sheikha Fatima Bint Mubarak Ladies World Championship (IFAHR), where lady jockeys will compete on pure thoroughbreds for this world championship, are exclusive features of White Turf 2018.
Surrounding the sporting events, the tent city built on the frozen lake of St. Moritz will entice spectators to partake of a funfair for the whole family. Here, concerts and shops can be explored, as well as a children's paradise to make the hearts of our younger White Turf visitors beat that little bit faster. Local companies offer a range of culinary delicacies to suit everyone's taste. All in all, White Turf is an experience not to be missed!