Despite the tremendous pace of the race, the winner of the 79th Grand Prix of St. Moritz was able to savour every minute as the spectators cheered him at White Turf. In his opinion, exceptional emotions like this can't be experienced anywhere else.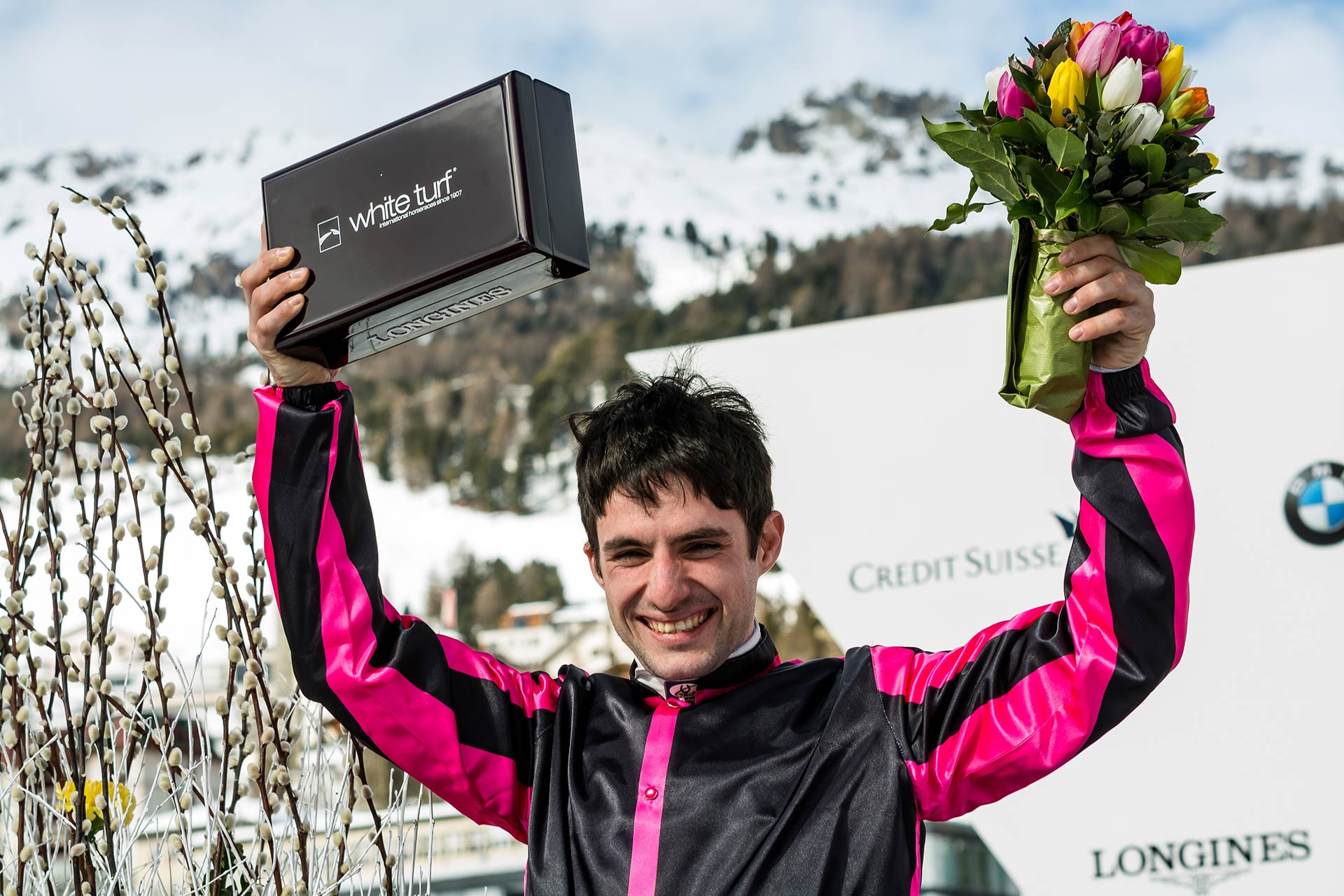 Maxim Pecheur is one of the most famous jockeys in international horse racing. Professionally, the native German participates in about 600 horse races a year all over Europe. He especially enjoys riding at White Turf, because these horse races - held on snow - are unique for professional jockeys. There is no comparable event anywhere in the world, "White Turf races are always endowed with prestigious purses. What's more, race sponsors present us, the participating horsemen, with fabulous honorary awards. Also, in my experience there is a tremendous commitment toward the riders on the part of the organisers."
Maxim Pecheur also finds the proximity to the race-going public absolutely exceptional, "Since I ride in so many different places, I am able to judge the differences very well. On the frozen lake of St. Moritz, I can clearly see the delight of the spectators. Despite the adrenaline and the speed, I can hear them at the finish, better than anywhere else. You can truly feel that every visitor enjoys the special experience and will never forget their White Turf visit."
Maxim Pecheur has a vivid memory of the atmosphere: at the 2018 White Turf, the 27-year-old won the 79th LONGINES Grand Prix of St. Moritz in grand style, in the saddle of the five-year-old gelding Nimrod from Miroslav Weiss' stable in Zurich-Urdorf. "White Turf is comparable with the Football World Cup. The tension increases from the first to the last race Sunday. The favourites become clearer as the Grand Prix of St. Moritz becomes the focus of the meeting, as well as the race everyone is talking about and waiting to see, until - at last - the starter's gun sounds. Victory releases all the emotions of the event. An exceptional experience, also because of the extensive media presence", says Maxim Pecheur looking back.
So, in 2019 he will be at the start of the race with the highest purse in Switzerland at 111,111 Swiss francs as defending champion. Full of anticipation the jockey says: "I continue my training all winter to maintain my routine and my fitness. I hope to be able to defend my title with Nimrod at the 80th Grand Prix of St. Moritz. There is no horse I would rather ride than my champion mount from last year!"